TRIBECA BARBER & BEAUTY SCHOOL
Tribeca Barber & Beauty School seeks to foster the development of our students in our entire curriculum. Our teaching staff is made up of talented and creative group of professionals. Our management staff has a combined 40 years of experience within administration and barber/beauty
Tribeca Barber & Beauty School offers courses that  prepare the student for the New York State Master Barber Operator exams. In these courses the student will learn skills necessary to earn (Master and Apprentice) licenses as well as skills they will need to become successful in the field of Barbering or Cosmetology in small and focused group classes to better reach the specific educational needs of each student.
We are a full service barber and beauty shop offering discounted services to the public. All of our services are performed by students who are supervised by the teachers. This approach allows the students to have full hands-on training as well as discounted services for the public. Students with hands-on training feel more confident in themselves and their abilities.
Advanced barbering program of 360 hours training
Our Barbering Program is 510 hours of theory and practical training
Our Cosmetology Program is 1,000 hours of comprehensive, well-rounded, creative and hands-on.
Additional courses we offer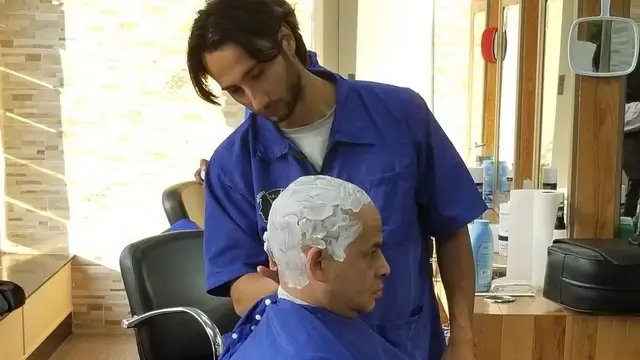 This 3 hour program covers the transmission of contagious diseases and the proper methods of sanitation and sterilization to be employed in barbershops.
This is a barbering refresher course of 50 hours that allows experienced barbers to gain confidence in their skills. Giving them the ability to have more hands on training.
Kevin is hoping to pick up a craft that he can take with him where ever he goes. He chose Tribeca because it is convenient, close to home, has a diverse population of clients coming in for haircuts, and top level instructors. 
George chose the barber industry because he's familiar with the hospitality industry and has been wanting to learn a new craft. He chose Tribeca because it was close to home, the teaching environment is excellent, and most importantly the bond our students share with one another. 
Justin has chose barbering after seeing how successful his friends were when they chose this path. He chose Tribeca because it's convenient, different teaching styles and methods, and the hands on experience through diverse clients walking in.
Take a look at some of our past graduates barbershops
whether you're looking for a great place to learn the barber industry or you want to gain a new skill, we are the perfect place.